Band 
is the first half of the 8th episode of 
Dave the Barbarian.
Fang unknowingly invents rock n' roll, causing she, Dave, Candy, Oswidge, Lula, Faffy and a donkey to form the wildly successful band 'The Barbarian Six+Donkey'. However, Chuckles the Silly Piggy disguises himself as a music producer and fools the band as part of a plan to destroy them for good.
[In this episode Dave, Fang, Candy, Oswidge, and Faffy create a band with a donkey.]
Fang: [singing] Donkey chum, donkey chum

Yeah, yeah, yeah! Love my donkey or you are dumb! Yeah, donkey chum! [screams]
---
[Uncle Oswidge invents rock 'n' roll after hearing Fang's version of "Donkey Chum".]
Uncle Oswidge: I'll call it rock 'n' roll. Cause it feels like you're being hit with a rock, and I'm hungry for a roll.
---
[Fang explains how she knows how to play the lute.]
Fang: It's a long story. See, there was this bug...
[Fang flashes back.]
Bug: Spare my life and I'll teach you to play the lute.
[Back in the present.]
Fang: Then he taught me the lute. Huh, guess it wasn't that long.
---
[After "Donkey Chum" became a hit Dave writes another song entitled "Pancake Party".]
Dave: Here's a little song I like to call "Pancake Party". [Singing]]

If I had a pancake....
I'd eat it with butter!
I'd eat it with syrup!
I'd eat it with a fork!
Oh Pan...

Fang: [Switching music to rock] Let me show you how it's done! [Singing]

Pancakes, Pancakes,
Eat 'em with a fork!
Pancakes, pancakes!
Don't be a dork!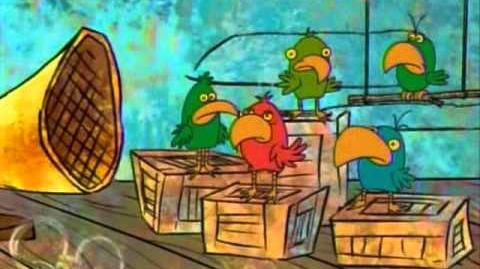 Ad blocker interference detected!
Wikia is a free-to-use site that makes money from advertising. We have a modified experience for viewers using ad blockers

Wikia is not accessible if you've made further modifications. Remove the custom ad blocker rule(s) and the page will load as expected.